Yes, that headline is correct. We've done over seven figures of display ad revenue with Ezoic's program over the past five years. Screen shot below:

Here's a slightly fancier version from right before the big moment…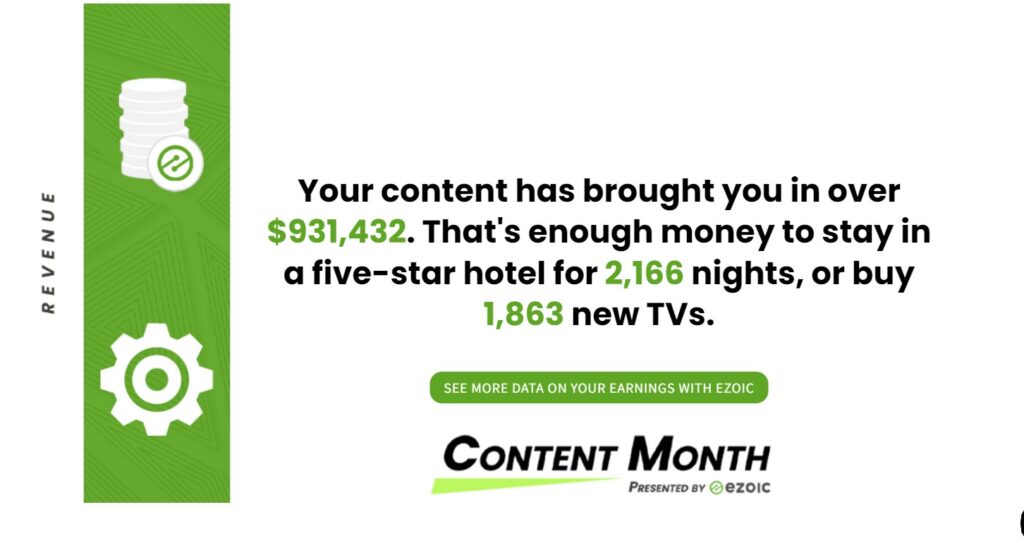 We've known the Ezoic team for almost seven years, from back when they were primarily known as an ad testing company. Unlike many competitors, they got their start as publishers, website investors, and content creators – so they understand what life is like on our side of the table. They routinely see revenue lifts of 50% to 250% on new websites and we have seen these results multiple times for the websites in our own portfolio we've moved onto the platform (Ezoic case study for a website turnaround).
Their focus has expanded over the years, incorporating additional features into their ad performance platform that helps you balance user experience and website earnings. More recently, they've opened up their platform to new bloggers through the ezoic Access New and Site Scores program.
Our own journey in website monetization started with Adsense ads. While Google ads gave us our initial cash flow, we realized there was a larger opportunity to tap into higher paying ad partners and optimize our overall experience. We started with the basic Ezoic ad offering and upgraded to Ezoic premium the following year. Since then, we've added 16 websites to our Ezoic account covering a wide variety of niches, ranging from video games to business content to technology articles.
Our Ezoic earnings vary by niche but have been consistently higher than AdSense. Generally speaking, larger size perform better than smaller sites – although Ezoic remains very helpful for websites that are still in growth mode. Since the system is self-service and effectively self-managing, Ezoic provides a way to quickly start earning from a new website and get back to working on expanding your content
Honest Ezoic Review from a Seven Figure Publisher
With Ezoic, we started noticing a significant increase in our ad earnings within a few weeks of adding a new website to the Ezoic platform. Their system enabled us to experiment with different ad networks and ad formats for both mobile and desktop, via the Ad Tester and Layout Tester apps. Ezoic's AI analyzed our site's traffic and made data-driven decisions to optimize ad placements, leading to higher earnings for us.
Ezoic's process is built around data analytics and automated testing processes (which they refer to AI). The goal is to help you balance ad revenue with user experience by tailoring ad units, layout, and ad placements. Unlike old school ad optimization, where we focused on identifying the best design for a website, Ezoic's AI optimizes your website's layout for micro-segments of your audience, catering to their specific needs and attention level. This could include showing different ad placements by traffic source and user behavior patterns. They balance this against user experience by optimizing the total revenue per visit instead of the revenue per page, like many other advertising companies. This helps you earn more from your search engine visitors.
Best of all? This is all automated. Ezoic's main advantage over traditional ad networks, like Google AdSense, is its dynamic ad testing and automated optimization features. They also provide you with access to higher paying ad buyers. They routinely see revenue lifts of 50% to 250% on new websites and we have seen these results multiple times within our own portfolio.
One of the most notable aspects of Ezoic is its Premium program, a collaborative product where you help fund Ezoic's effort to signup higher paying brand buyers. Although Ezoic Premium has a monthly fee, we found it worthwhile as our earnings showed a nice lift (usually 50% – 60%) over our Premium fees. Our Ezoic rep told us that the company's goal was for publishers never to lose money on their Premium investment and we've never had to worry about this, even during the pandemic plunge….
Looking beyond ad revenue, another major advantage of Ezoic is their tools for improving website loading speeds. They offer all of their customers a free CDN (Content Delivery Network) which speed up many websites, in particular WordPress blogs. They have integrated a site speed accelerator onto this platform which automatically implements low level code and server optimization strategies.
Other big advantage? Their analytics package, known as big data analytics. Integrating with Google Analytics, this tool provides valuable insights on website traffic and the user experience. This integration allows us to make informed decisions about our content and layout strategies. They also have a title tag testing tool which enables you to A/B test headlines for your articles to see which one is performing better on Google.
Ezoic Ad Network: Expanding Beyond Google AdSense
Changing topics for a moment, here's a deeper view of how Ezoic work(s) to improve the ad performance and user experience for your website.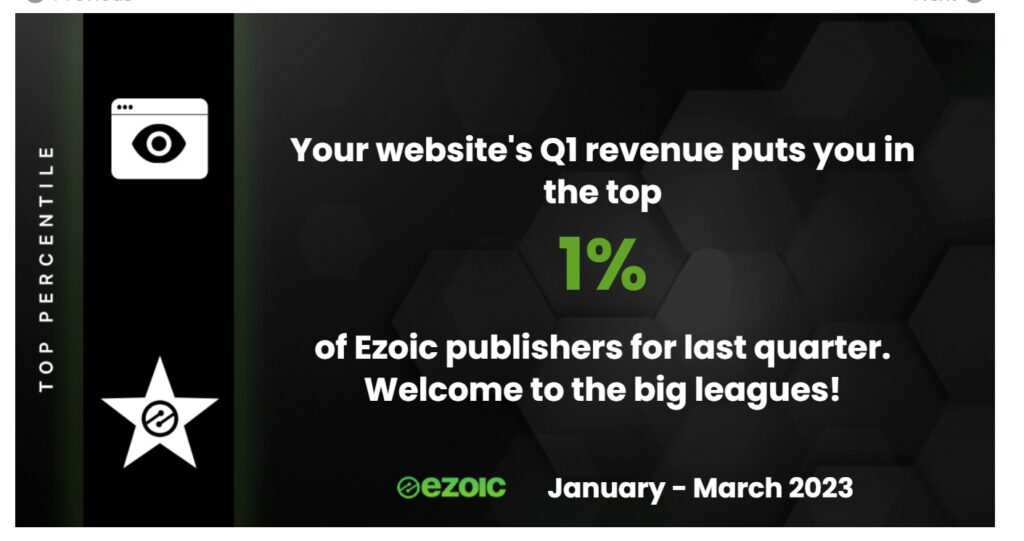 Google AdSense vs. Ezoic Ads
While both Google AdSense and Ezoic ad networks serve as ad partners for publishers, there are key differences that set Ezoic apart in terms of user experience, optimization, and ad revenue potential.
Firstly, Ezoic offers various features that improve site performance and user experience. Thanks to its big data analytics platform and Ezoic AI, it can optimize ad placements and formats, ensuring that ads don't negatively impact page load times or contribute to an overwhelming layout.
Ezoic Ad Tester is another useful feature available within the platform, enabling website owners to automatically test different ad units, ad placement, and layouts. This tool also helps to maximize ad earnings by analyzing visitor behavior and their interaction with the ads.
One of the key advantages of Ezoic compared to Google AdSense is the Ezoic Premium program. Becoming an Ezoic premium member unlocks additional revenue-generating opportunities, such as exclusive access to premium ad partners and earning even more revenue from displaying ads through Ezoic (premium review here). However, it's essential to consider Ezoic pricing when signing up for the premium program and weigh the costs against your predicted revenue increase.
One of the most noteworthy aspects of Ezoic is its ability to integrate with other revenue sources, like Amazon Associate and affiliate linking. This allows us, as website owners, to diversify our earnings and take advantage of multiple revenue streams.
| Feature | Google AdSense | Ezoic |
| --- | --- | --- |
| Ad Testing | Limited | Advanced (Ezoic Ad Tester) |
| Premium Ad Access | No | Yes (Ezoic Premium) |
| Optimization Features | No | Yes (Ezoic AI and Platform) |
| Revenue Diversification | No | Yes (Integration with Amazon Associate and affiliate linking) |
| User Experience Optimization | No | Yes |
In conclusion, Ezoic ad network provides website owners with additional tools, features, and revenue-generating opportunities that go beyond what Google AdSense offers. By taking advantage of Ezoic's AI-powered ad optimization and premium program, publishers can potentially increase their ad earnings and improve the overall user experience on their websites.
Maximizing Ad Revenue with Ezoic
As a seven-figure publisher, we have tried various ad networks and tools to optimize our ad revenue. In this section, we will share our honest Ezoic review and discuss how it has helped us maximize our earnings.
Ezoic Ad Tester
One of the factors that set Ezoic apart from other ad networks is its focus on ad placement optimization. Ezoic's AI analyses user behavior and adjusts ad placements accordingly, aiming to minimize any negative impact on user experience. This has allowed us to strike the perfect balance between maximizing ad revenue and providing our users with a seamless browsing experience.
The Ezoic Ad Tester is a powerful tool we use to optimize ad placements on our website. By using machine learning, it continually tests different ad formats, sizes, and locations, ultimately finding the best-performing combinations. This has led to substantial increases in our ad revenue and improved the overall user experience on our site.
Additionally, Ezoic's integration with Google Ad Exchange has provided us access to display ads from a variety of advertisers, increasing demand for our ad space and ultimately improving our overall earnings.
Ezoic Big Data Analytics and Google Analytics
With Big Data Analytics, Ezoic provides publishers with an upgraded alternative to Google Analytics (for free). This helps you monitor website traffic, user engagement, and ad performance along with providing you with expanded insights on content and advertising performance. We've gained valuable insights into which ad units and articles are working, which has helped us optimize our ad strategy and content planning.
Ezoic Premium: A Deeper Dive
While we quickly grasped the idea behind Ezoic premium, we were a bit skeptical at first… pay money… to get higher paying ads? But here's what is really going on here: you're funding a direct sales team, which goes directly to the relevant brand owners (cutting a bunch of other ad-tech vendors out of the process) and cuts a better deal on ad rates, which gets handed to you. While these ads may only represent a small share of your total volume, they can earn up to a $50 CPM – much higher than the rest of your inventory.
We've seen about a 50% to 60% lift in ad revenue over the investment that we're making in funding Ezoic premium, which you get as part of the usual payment cycle. So this is a nice quick payback on your program fees. When we signed up for Premium, they gave us a few weeks free – with the higher earnings – which provided most of the cash to fund our first month of fees.
One other thing… once you're in the premium program, Ezoic doesn't take other fees (terms may vary, but that's how it was explained to us). You're getting access to many premium features and a full cut of the ad revenue.
Ezoic Premium Benefits
Here are some of the benefits of Ezoic Premium that we've experienced firsthand:
Increased earnings: We've noticed a considerable increase in our monthly ad revenue since we started using Ezoic Premium. The high-quality ads and optimized ad placements have helped contribute to this improvement.
Better ad performance: With the Ezoic AI and Ad Tester, we saw improvements in our ad format and placements, which led to better user engagement and higher click-through rates.
Improved site speed: Ezoic Premium has helped us monitor and improve our site speed, ensuring an enhanced user experience and potentially leading to higher SEO rankings.
Personalized support: As Ezoic Premium users, we had access to dedicated support that assisted us throughout our journey to improve ad revenue and website performance.
In the aggregate, Ezoic premium has done a lot to boost our earnings as a business.
Improving User Experience
As seven-figure publishers, we believe that improving user experience is essential for increasing ad revenue and visitor satisfaction. In this section, we will discuss three key approaches we applied to enhance our website's visitor experience, namely Site Speed Optimization, Ad Inserter, and Ezoic AI.
Ezoic LEAP – Site Speed Optimization
Ezoic's LEAP feature is a site acceleration toolkit intended to help a website pass Google's Core Web Vitals quality testing process. They accomplish this through modifying HTML, CSS, and JavaScript to accelerate web page load speeds. This replaces Ezoic's early Site Speed Accelerator feature.
WordPress Plugin – Ad Inserter
Ad placement, when done thoughtlessly or excessively, can lead to a negative user experience. The Ezoic WordPress plugin enabled us to automatically manage ad placements. This allowed us to quickly set up new WordPress blogs on the Ezoic platform using their default settings and letting the system explore the best potential options for ad placements.
Ezoic AI
Another key component in improving user experience is to harness the power of Ezoic's AI technology. Through the use of Ezoic's ad tester and layout tester, we optimized our ad placements and website layout to match our visitors' preferences. The result was personalized ad experiences that were less intrusive and more relevant to our users, thus increasing our ad revenue without sacrificing user satisfaction.
The Ezoic AI also helped us evaluate numerous ad networks, identifying the best partners for our website, which ultimately resulted in better ad performance and higher earnings.
Boosting Earnings with Ezoic
As a seven-figure publisher, we've come across many ad networks and tried different approaches to maximize our revenue. In our quest for the best solutions, we decided to give Ezoic a shot. In this section, we'll share our experience on how Ezoic helped boost our earnings, focusing on ad revenue, Google AdSense and Amazon Associates.
Revenue Comparisons
Before joining Ezoic, we relied primarily on Google AdSense to generate income from our website. However, we noticed a significant increase in our revenue upon implementing Ezoic's AI-powered ad testing and management system. The Ezoic platform allowed us to optimize our ad units, space, and placements, leading to better user experience and higher earnings.
Using Ezoic's Ad Tester, we were able to test different ad formats, sizes, and positions on our website. This gave us valuable insights into which combinations worked best for our audience and content, contributing to an overall increase in ad revenue.
Additional Benefits
Beyond just boosting our earnings, we experienced several other benefits due to our partnership with Ezoic. Their Big Data Analytics tools provided us with valuable insights into website traffic and user behavior. This information, combined with the Ezoic Dashboard, helped us optimize our content and overall user experience. Moreover, through Ezoic's ad performance and optimization tools, we saw improvements in our site speed and mobile responsiveness. This ensured that our visitors had the best experience possible, reducing bounce rates and increasing time spent on the site.
In conclusion, we've been thrilled with the results of our partnership with Ezoic. From optimizing ad placements and formats to enhancing user experience and increasing earnings, Ezoic has proven to be a valuable asset for our seven-figure publishing business.
Evaluating Ezoic as a Platform
As a seven-figure publisher, we want to ensure that our ad revenue is always maximized, and our user experience is always at its best. In our journey to improve both aspects, we have come across Ezoic, a platform that uses AI to optimize ads on websites. In this section, we'll evaluate Ezoic as a platform and dive into its ad formats and units, as well as its pricing and ad partner options.
Ad Formats and Ad Units
Ezoic offers a variety of ad formats, including display ads, video ads, native ads, and more. Their AI-powered ad tester, the Ezoic Ad Tester, allows us to test different ad units and placements in real-time, optimizing ad performance as our website traffic fluctuates. The Ezoic AI system determines the best ad combinations, ad sizes, and ad placements, taking into account site speed and user experience.
The platform also supports integration with Google AdSense, Google Ad Exchange, Amazon Associates, and other ad networks. This compatibility allows us to place different types of ads on our website and increase ad variety.
Ezoic Pricing and Ad Partner Options
Ezoic's pricing structure makes it accessible for various website owners, regardless of their traffic levels or ad revenue. They offer a freemium model where publishers can access the basic ad tester and the Ezoic Platform at no cost. The Ezoic Premium plan is available for those looking to maximize their earnings even further, providing exclusive access to premium ad partners and additional revenue opportunities.
By unlocking the Ezoic Premium plan, we've seen growth in our ad earnings. As a result, we can diversify our income streams, allocate more resources towards improvements, and maintain the sustainability of our business as a seven-figure publisher.
Ezoic has proven to be a valuable tool in improving our ad revenue, site speed, and user experience. The platform's AI-driven approach and integration with various ad networks and formats have helped us generate consistent income, while the affordable pricing makes it accessible for publishers of all sizes. We believe that Ezoic is an excellent investment for any website owner looking to boost their ad revenue without sacrificing user experience.
Conclusion: Is Ezoic the Best Ad Network for Your Website?
In our journey as seven-figure publishers, we've tested various ad networks to maximize our ad revenue. After an honest assessment of our experience with Ezoic, we believe it holds significant potential for website owners.
Using the Ezoic ad tester and layout tester, we were able to optimize ad placement and improve user experience on our website. With Ezoic AI, it's become easier to manage ad performance, helping us optimize ad units and ad formats effectively.
We appreciate the integration of Ezoic with Google Analytics, which provides us with valuable data to make informed decisions. Additionally, the Ezoic Premium program has further boosted our earnings with access to premium ad partners and better ad rates.
As for site speed and user experience, Ezoic's big data analytics have been instrumental in ensuring that our website remains fast, while still displaying relevant ads that cater to our audience. This, in turn, has helped us maintain good relationships with programs like Amazon Associates.
In comparison to other ad networks like Google AdSense, we found that Ezoic consistently increased our ad earnings month over month. Their pricing model works well for our needs, and with access to networks such as Google Ad Exchange, our ad revenue is healthier than ever.
Every website and publisher may have unique requirements, and it's essential to experiment with different ad networks. However, based on our experience, Ezoic has proven to be a reliable partner in growing our ad revenue and making our website more user-friendly. We highly recommend giving Ezoic a try if you're in search of the best ad network for your website.