As part of our ongoing efforts to integrate AI technology into our content creation process, I've recently started working with KoalaWriter. Koala is best described as a "creator-friendly" wrapper around many of OpenAI's content generation capabilities, providing writers and publishers an easy way to unlock the power of automation.
Like many other AI writing tools, KoalaWriter offers creators with the ability to generate a comprehensive and SEO-friendly first draft article within minutes. Starting from a keyword, Koala provides you with a set of options to control the focus, tone, and perspective of your article.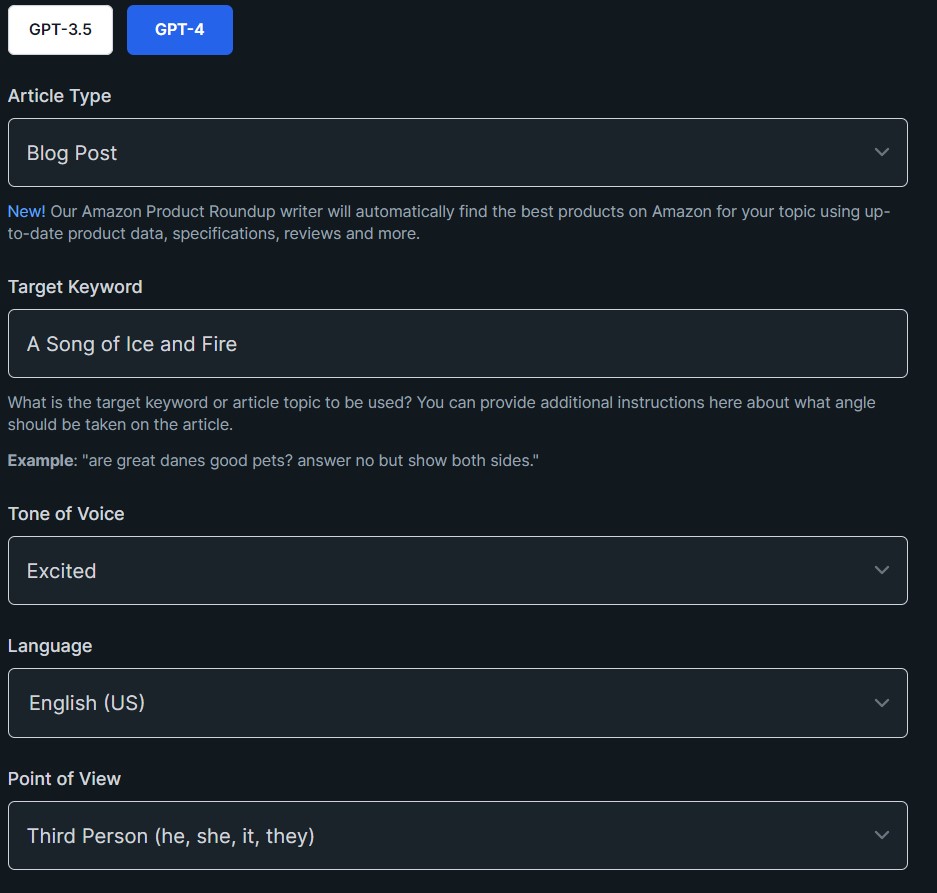 In addition to high level guidance, Koala provides a content creator with options to insert detailed guidance deeper into the creative process, ranging from providing an outline or specific instructions about writing the piece…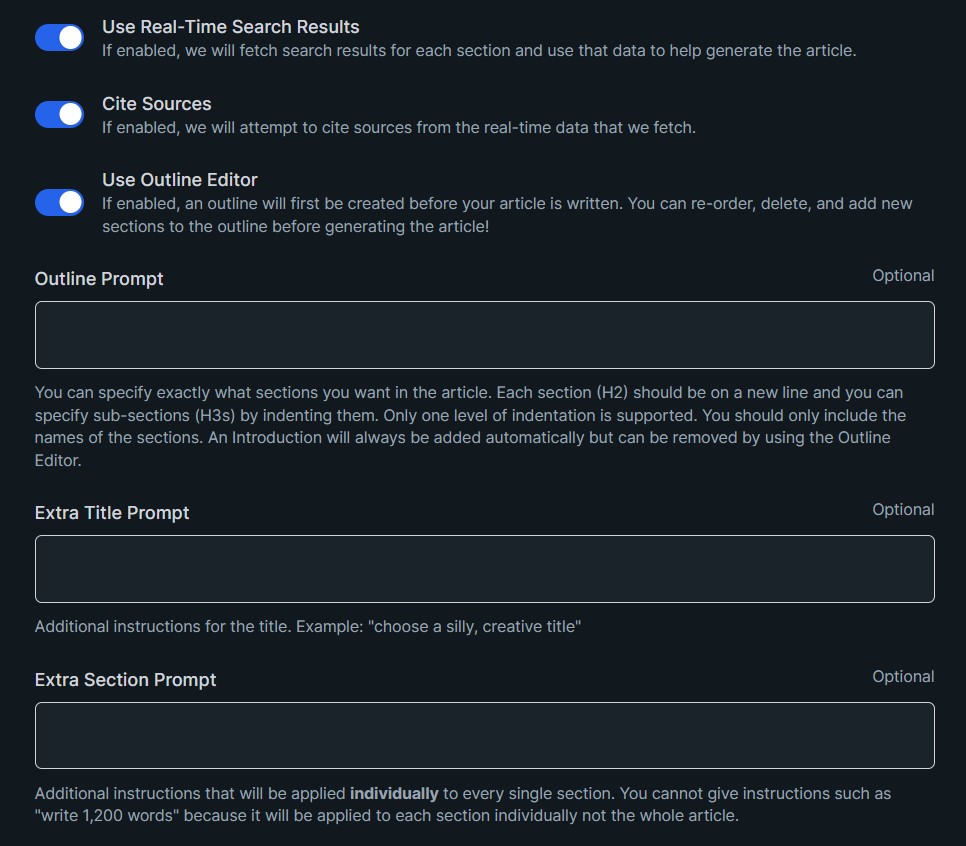 While this is a good start, the feature which really sold me on Koala was the ability to generate a detailed outline before it starts creating an article and interject my own thoughts on the topic at a very detailed level. This is akin to being a creative director at an advertising agency – Koala gives you the ability to set the general tone of the piece, control the overall agenda, and lean in to make key points if needed… without burying you in the details. Here's an example of the outline in action as I'm cruise directing an article about Game of Thrones…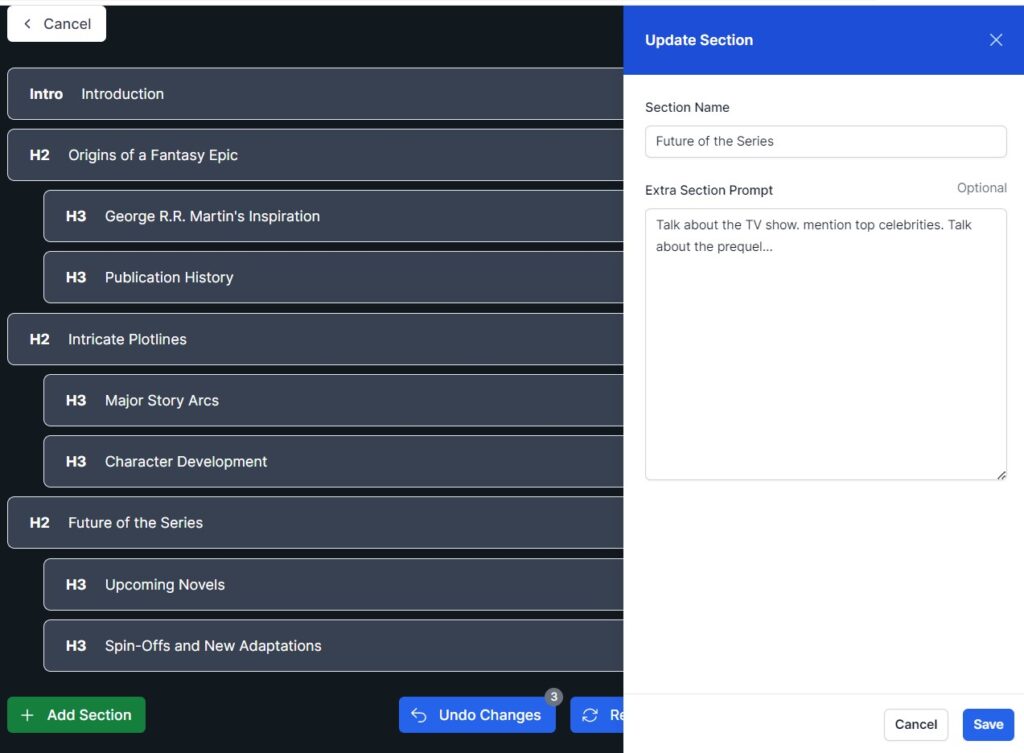 Once you're good with the outline, hit "Write Article" and KoalaWriter will start cranking out the copy. It can easily crank out decent 1000 to 3000 word articles in a few minutes.
I've always looked at Koala as a way to make great content ideas better. While the tool is good enough to support "lazy writing" (enter keyword, copy-paste results to blog), the detailed prompt engineering features are ideally suited for writers who want to magnify vs. replace their output. Between research and first drafting, Koala enables me to generate deep articles which are usually double or triple the amount of material that I typically cover in a quarter of the time it takes to write the basic article. Instead of grinding out copy, my time and energy is available for deeper research, optimizing headlines and key sections, and developing related resources which build more value in the overall piece.
KoalaChat – Research Workbench
Originally added as a wrapper to ChatGPT, the creators of Koala have started adding a variety of useful features to KoalaChat, which has quickly elevated it to become one of my favorite research tools. KoalaChat is also great when you want to polish, summarize, or expand sections of an existing article. This includes the ability to reference resources on the web.
Here's a list of additional topics and tricks I've picked up about Koala. If you would like to give the software a try, a free trial (5000 words of content) is available at KoalaWriter through this link.
"I know Koala-Fu" – Power User Tips about KoalaWriter & KoalaChat
Getting Started…
For a Free Trial of MarketMuse, sign up through this link.
For a Free Trial of Koala Writer, sign up through this link