Affiliate Link Disclosure: We have affiliate links on this site for tools to assist readers in implementing the strategies we discuss. If you elect to buy via these links, I may receive a commission. As a rule, we do not link to merchants we are not actively using ourselves.
CanIRank – Identifies What You Need To Do To Win
Google rankings work in mysterious ways; CanIRank is an analytics platform that peels back the curtain. This product was based on a massive machine learning project aimed at figuring out the ranking logic behind Google search.
Does it work? Here's a comparison of content we optimized using CanIRank's platform vs. articles form the original owner of the website. As you can see, there's a nice bump.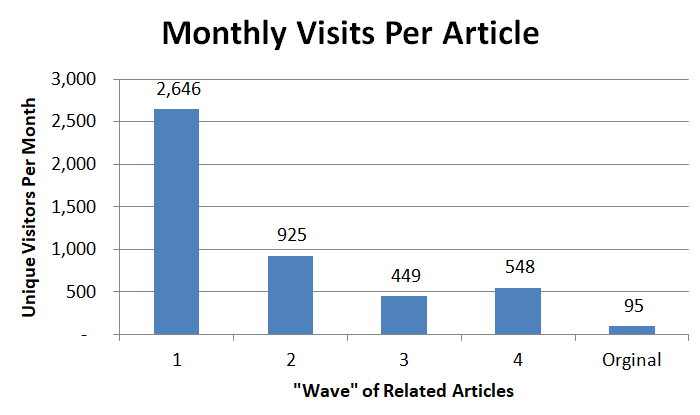 There are three ways to use this tool to increase your return on investing in content:
For topics where you can rank, it provides a specific list of areas to improve
It can show you where to stop wasting money (low odds of ranking)
We use their workflow platform to execute efficiently (track tasks & goals)
We upgraded to a Pro plan ($79 / month) and recently bumped it up to the Agency version after we saw growth at the sites we tested.
You can try their service for free – and they've given us a special offer that will get you a 20% discount for your first 3 months. Use coupon code "twentypercentoffthree". Sign up here to try their service for free.
We recommend you pair it with SEMRush's pro-level subscription for keyword analytics and competitive intelligence. These two tools are the foundation of a targeting process.
SEMRush – Competitive Intelligence, Shows You Where To Play…
Our first SEO package and a key contributor to our success… This tool is pure money when it comes to finding and capturing low hanging fruit in Google's search results. SEMrush has been the core of our analytics platform for years. Literally supports "dialing for dollars". Some of the things we use it for:
Organic search analysis – what does a competitor rank for? Have they found any hidden gems (low competition keywords) which we should also be pursuing?
Competitive Mapping: Which other website are active in a niche? Who do they target? Allows you to reverse-engineer their content strategy and target weak points.
Traffic Intelligence: A goldmine of marketing insights. So we get all that lovely traffic redirected to our properties….. how should we expect visitors to behave? What should we expect as a mix of devices? Where are they getting traffic outside of SEO? Any indications of good affiliate offers or referral sources? You get basic access with the Pro plan and a far deeper view if you buy the full traffic data.
PPC Keywords: Very useful when combined with the competitive mapping information. Tells you where smart buyers are spending money in a niche to get traffic.
Search Engine Rank Tracking: Not unique, but it is a nice daily dashboard
SEO Content Template: Workflow tool, helps you figure out what to write about
Check out these customer success stories then Click here for a free 7 day trial of Pro